ISAIA Celebrates "Broken Lines" with Whitewall and Gallery Wendi Norris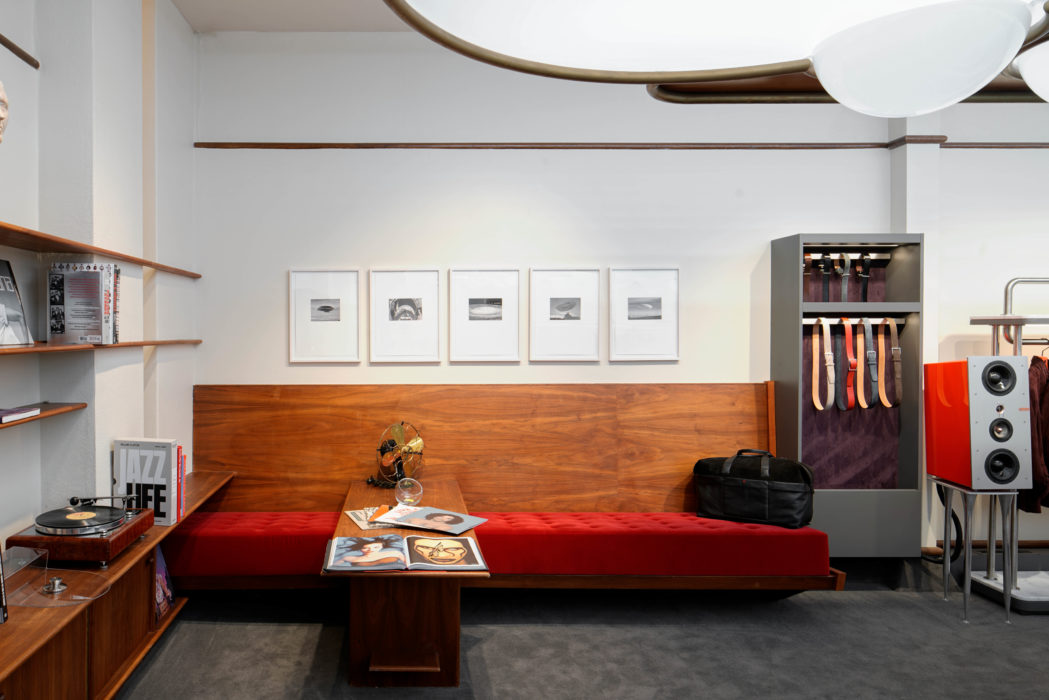 SAN FRANCISCO
LIFESTYLE, OCTOBER 24, 2018
By Whitewall
Last Thursday, the ISAIA presents "Gallery in Residence" by Whitewall program debuted at ISAIA's San Francisco flagship with the exhibition "Broken Lines," curated by Gallery Wendi Norris.
The Neopolitan menswear brand is activating its iconic Frank Lloyd Wright-designed landmark at 140 Maiden Lane with an ongoing series of exhibitions in collaboration with San Francisco-based galleries, organized with Whitewall magazine.
There to celebrate, alongside Gianluca Isaia, Wendi Norris, and Whitewall's Michael Klug, were guests like Tom DeCaigny, Jill Manton, and Seb and Julie Lepinard.
The inaugural show, put together by gallerist Wendi Norris, includes work spanning five decades from Eva Schlegel, Yamini Nayar, Miguel Angel Ríos, Julio César Morales, and Peter Young. "Broken Lines" interacts with 140 Maiden Lane's 1948 architecture, exploring themes around borders, humanity, and the nature of decay.
"Frank Lloyd Wright's 140 Maiden Lane offers a euphoric, cylindrically-oriented setting, representing a type of aspirational and pure American beauty. Its construction gives way to contemporary notions of breaking down borders—political, psychological, or architectural," said Wendi Norris.
"We are honored to have Gallery Wendi Norris bring this amazing exhibition to ISAIA San Francisco in partnership with Whitewall," said Gianluca Isaia, the third generation CEO of ISAIA. "It all starts with passion. Born in Napoli in 1957, ISAIA's commitment to craftsmanship and artistic expression has always been at the heart and soul of what we do. With a modern personality, we are always looking at artists to start a dialogue around what is culturally happening in the world."
"We are thrilled to work with Gallery Wendi Norris and ISAIA to organize this cultural program within a landmark Frank Lloyd Wright building," said Whitewall's Publisher, Founder, and Editor at Large, Michael Klug. "ISAIA epitomizes luxury know-how, handmade craft, and timeless elegance. Gallery Wendi Norris is a pillar of the art community in San Francisco, as well as a symbol of the connection between the city and the global art world."
The title of the show is derived from Julio César Morales' work of the same name, a red neon replica of the border between the U.S. and Mexico. Eva Schlegel has created a site-specific mirrored installation reflecting Wright's mid-century vision. Yamini Nayar's large-scale Transferenceis a photographic study of Corbusier's Brutalist structure in Chandigarh, India. The curves of the space are paralleled in Miguel Angel Ríos' Piedras Blancas, sculptural and photo documentation of thousands of hand-made cement and clay balls falling down a hillside. Referencing the craftsmanship and tailor made quality of ISAIA's collections within the store, are the 1970s "Weave" paintings by Peter Young.
Monographs on each artist are available in the library of 140 Maiden Lane, and all works on view for the next three months are for sale. The ISAIA presents "Gallery in Residence" byWhitewall program continues at ISAIA's flagship in San Francisco on a rotating basis through 2019.